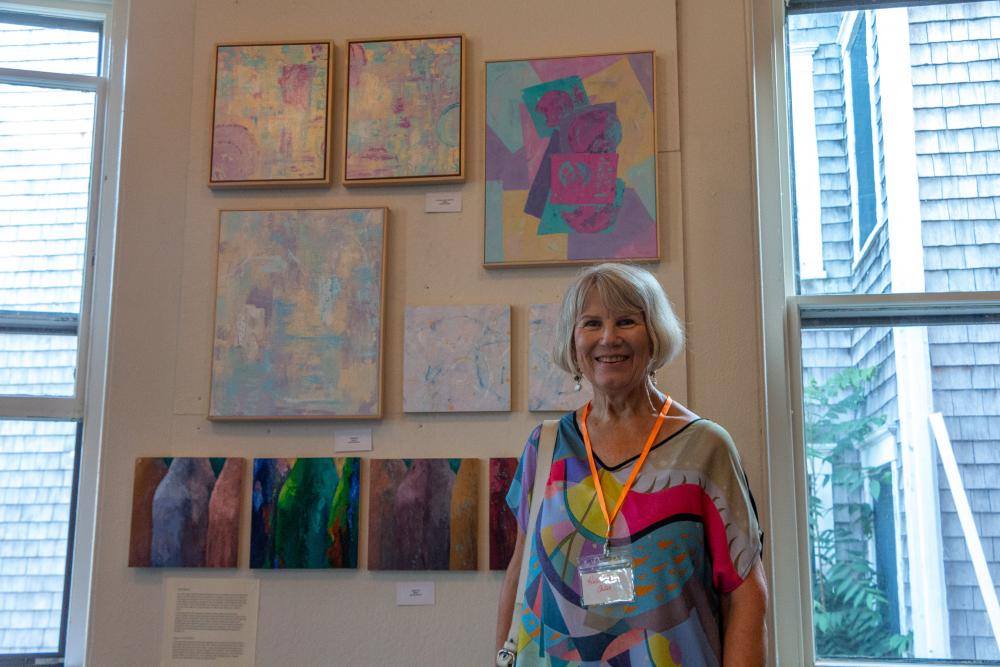 The Cultural Center opens the August exhibition: Abstract Acrylics
The Dartmouth Cultural Center hosted a reception on Friday August 5th to welcome this month's exhibit.
The exhibit, titled "Abstract Acrylics," featured the works of the center's gallery director, Jill Law, some of her adult students, and two other local artists.
The exhibit, like Law's class, focused on abstract works — a genre she said was harder than it looked.
"It takes a long time for people to come out of their shell with abstract art," Law said, explaining that she asks her students to critique each other's work at the end of each lesson to help their development and hone their eye for style.
"It's funny how being in a band brings people out," she added.
One of Law's students, Robert Vesprini, said he started painting in his spare time after retiring eight years ago.
Vesprini called his style semi-abstract because although his works are not meant to be realistic, they sometimes depict real objects or scenes – such as a forest stream or a field of flowers – in a very impressionistic way.
Although he said he was "not too interested" in selling his work, he was excited to be able to show his paintings in a gallery for the first time.
"It's great," he said. "This is very fun."
Another Law student, Beth Russo, started taking the course just before the pandemic hit and has been honing her skills ever since.
"It's great fun – also frustrating – but mostly fun and rewarding," she said. "After [I'm done]I can step back and really appreciate them.
Russo's works were truly abstract, but no less striking.
One of the commonalities between his paintings was the use of layering to create interesting textures.
In one painting, for example, she used pieces of collage. On another, she used a marker to doodle over the layered paint.
Law's last student at the show was Helen Bryant, who started taking the class when Covid forced her to quit her art classes at UMass Dartmouth.
Bryant, a retired nurse, said she uses the precision skills she learned during her career to improve her art, often using tools like palette knives in place of traditional paintbrushes.
One of the characteristics of his works was the use of bright colors.
"I love bright colors but I also love subtlety," she said. "Before I know it, I'm putting on hot pink or something."
The show doubled as a chance for South Coast artists who don't have dedicated spaces to show their work before the organization's upcoming open studio tours.
One such artist was Judy Melanson, whose work was far less abstract than Law's students.
"I'm one of the realists," she laughs.
Many of Melanson's paintings were landscapes that she painted en plein air at locations along the south coast.
She said painting on location was nice because it gives the artist a better sense of the scene, adding, however, that you need to work strategically because the scene will change over time.
"You have to have a plan," she says.
The last artist in the show was Kevin Garbarini, whose works – like Melanson's – leaned more towards realism.
Garbarini's works were made with pastels rather than paint, a medium he said he discovered during a course and then remained faithful to.
"Pastels are the purest form of color," he said. "There's something liberating about that."
Garbini said he has been painting for about nine years now and has been able to continue learning with the help of other artists in the area.
"It's a pretty art-friendly community," he said.
The exhibition will be presented at the Cultural Center until the end of August. The Gallery is open Thursday to Saturday from 11 a.m. to 3 p.m.
For more information, visit dartmouthculturalcenterinc.org.