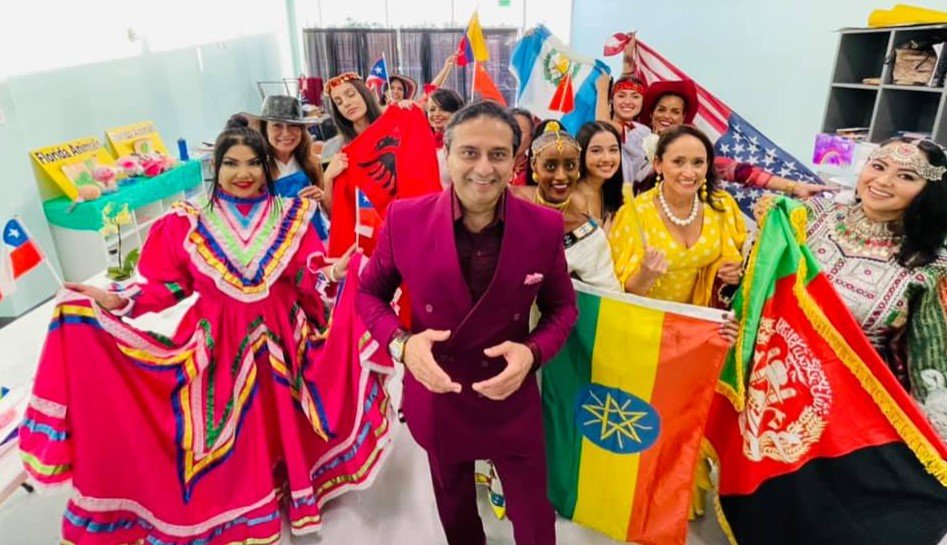 The cultural center features artists, poets, musicians and more when the link opens
The Ponte Vedra Beach Cultural Center and Nocatee Link recently hosted the "Grand Opening of the Arts" at the facility that some have called "the building of the future". The event was held from 10 a.m. to 10 p.m. on Thursday, July 15 at 425 Town Plaza Ave.
[See also: The link officially opens its doors]
According to Donna Guzzo, president and CEO of the Cultural Center, the non-profit organization coordinated the poets; fine artists; live art demonstrations; musicians on cello, saxophone and violin; conferences and artist demonstrations; a live salsa band; dancers; opera singers; a guitarist ; a cultural fashion show and more.
The Cultural Center has served as a gathering place for the community to learn, experience and appreciate the arts and culture in its many forms. It provides opportunities for adults, children and families through classes, exhibits, programs, services, activities and memberships open to the local community and beyond.
During the morning and afternoon sessions, poetry readings were held hourly with local PAM Jam poets including Carolee Bertisch, Tesi Wong, Carol Folsom, Susan Calfee, Sharon Scholl, Shutta Crum, Patricia Krause and Anne Sterling. Poetry has been associated with paintings by local artists.
Art teacher Marisa Yow presented her work using oils, drawings and figurative works. A robotic introduction by Simon and Echo with Todd and Theresa Rykaczewsky included interactions between the children at the Cultural Center's summer arts camp.
Musicians featured included Jeremy Bertisch, Shari Little, Teal Cabana Club, The Connors Project, Sharon Scholl, Daniel Birch and Janine Newfield. Violin students circulated among the participants.
Afternoon sessions also featured non-profit artist Ellen Diamond and her Tuscan-themed artwork in the Flagler Health + immersion room, accompanied by opera singer Regina. Torres.
Throughout the evening of the event, other artists and painters were featured including Midge Scelzo, Marla Kanehl, Marleen Scheer, Zena Groover, Deborah Lightfield and Sharon Warner. Pet portraits of Anna Washington were also featured.
Susanne Schuenke, Theresa Rykaczewsky and Eloy Castroverde presented artist talks.
Paintings by cultural center master Enrique Mora have been installed in the entrance to Link's reception hall, where Schuenke's massive works of art hang on two-story walls.
In addition, many artists were featured in the halls and studios of the building. The work will be presented on the link until Friday, October 15.
During the evening, performances featured Maura Delgado on saxophone; Sabrina Krisberg, cello teacher at the Cultural Center; and the music of Avid Smith playing the Indian Sitar with the voices of Lindsey and Loreal Liske from the local Academy of Music and the Arts.
Guest speakers during the night included Chris Miller, district director of the office of US Representative John Rutherford; Joy Andrews, Assistant Administrator for St. Johns County; St. Johns County Commissioners Jeb Smith and Henry Dean; and Joe Bryant, Chairman of the Cultural Center Board of Directors.
Guzzo and his team also coordinated a myriad of lively evenings with partners and members of the Ruth Van Alstine Cultural Center and the North Florida Poetry Hub, as well as poets Sally Wahl Constain and Patricia Krause, who composed improvisational prose. which was written, shared and produced on antique paper and tied with a red ribbon as gifts.
Dr Arun Gulani, Gulani Fashions and professional model Sally Fit produced a highly detailed cultural fashion show with models dressed in traditional clothing from their home countries on the catwalk. Live music was provided by the Mi Son Salsa Band, sponsor of the event.
"We are extremely proud to have successfully presented a wide variety of cultural professionals and local and regional volunteers for attendees to experience how combined creativity can tell a great story through visual and aural presentations," said Guzzo. "The whole day and evening were offered free of charge to the community and to all who enjoyed the festivities. "
She said the event was about "unity, love, the power of art, the sound of music, speech, freedom of movement, creativity, inspiration, cultural awareness, tolerance of other cultures and inclusiveness ".
"That night we went global," she said. "We have linked each country in our own backyard. We have brought hope to our future and are honored to have featured the opening exhibit on the link. "
The work is available for sale on the link.
Artist biographies can be viewed at thelink.zone/artists.
For more information, contact Callie Johnson, Manager of Community Relations at the Cultural Center, at 904-280-0614 ext. 1202 or by email at [email protected]
For more information on Cultural Center memberships, courses, programs and services, visit ccpvb.org.
The Ponte Vedra Beach Cultural Center is located at 3972 3rd St. South, Jacksonville Beach. Hours of operation are 10 a.m. to 4 p.m. Monday to Friday, with appointments outside of opening hours.