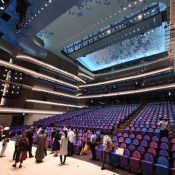 Ryukyu Shimpo – Okinawa, Japanese Newspaper, Local News »Naha New Cultural Arts Theater incorporates elements of traditional Shuri and Okinawan Sea textiles, and hopes to become a beacon for arts and culture
The New Naha Cultural Arts Theater incorporates elements of traditional textiles from Shuri and the Okinawan Sea, and hopes to become a beacon for arts and culture
July 19, 2021 Ryukyu Shimpo
Naha City opened the doors of its new Naha Cultural Arts Theater NAHArt (New Community Center) in Kumoji to local media organizations on July 18. The center will open to the public on October 31. The large theater can seat around 1,600 seats, and there will be a small theater that can seat around 260-300. The design of the theater incorporates elements of Okinawa such as shuriori textile, una (a public square) and the ocean.
The exterior of the theater is wrapped in a shuriori-themed awning. The lobby is decorated according to a una, where everyone can relax while the theater is open. From the lobby you can see the studios and practice rooms through the glass.
The interior of the Grand Theater is designed to give the impression of being inside the ocean, with the ceiling design resembling the oscillating surface of the ocean from the ocean floor. The walls are of limestone. There are seating levels.
The smaller theater is themed yellow to resemble the kimonos of the Okinawa royal family, and shuriori the designs are sprinkled all over the place. The large theater and the small theater each have a stage, a large and a small studio and four small rehearsal rooms.
NAHArt strives to become the center of Naha performance, arts and culture, and a place of interaction for Naha residents. Naha Mayor Kimiko Shiroma commented, "We have built a spectacular facility and I thank from the bottom of my heart the cooperation of workers and members of the local community. Now our job is to bring this new ship to life. I hope many people will come to interact and use this place as a center for arts and culture.
NAHArt's operating expenses total approximately 14.71 billion yen; which comes from a general subsidy of about 7.1 billion yen, 6.6 billion yen from municipal bonds and other sources. On July 18, a thank you ceremony was also held for the 26 companies involved in the construction.
(English translation by T&CT and Sam Grieb)
Previous article:Yukiko Miyagi and Fusako Shida become the first living national treasures in Ryukyu Buyo
Next article:OPG speculates Delta variant causes increase in infections in people associated with US military
[Similar Articles]