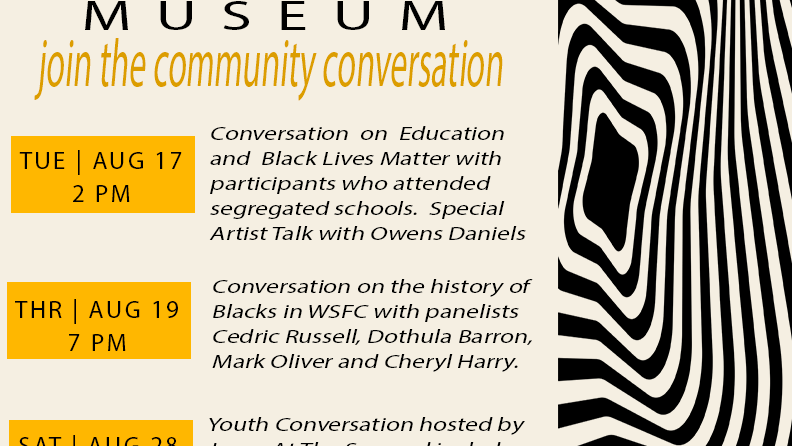 Heritage 365 and Triad Cultural Arts to Host Community Conversations on 'Black Culture Pop Up Museum' | Music
[ad_1]
August 17, 19 and 28 at the Milton Rhodes Center for the Arts
Winston-Salem, North Carolina (Aug 11, 2021) – Heritage 365 and Triad Cultural Arts will organize three community conversations on the "Black Culture Pop Up Museum" on August 17, 19 and 28. Each community conversation will take place in the main gallery of the Milton Rhodes Center for the Arts (251 N Spruce Street, Winston-Salem, NC 27101).
The "Black Culture Pop Up Museum" opened in June with "When the Revolution Comes" by Owens Daniels as part of the Winston-Salem and Forsyth County Arts Council initiative to highlight social justice through the arts. Its goal is to address the lack of access to local black history, enabling black Americans to lead the interpretation of history through reflective learning and community engagement.
Tuesday August 17 at 2:00 p.m. will be a conversation about education and Black Lives Matter with participants who attended separate schools in Winston-Salem, and a special artist conversation with Owens Daniels.
Thursday August 19 at 7:00 p.m. will be a conversation about the historic black businesses, churches and schools of Winston-Salem with panelists Cedric Russell, Dothula Barron, Mark Oliver and Cheryl Harry.
Saturday August 28 at 10 a.m. will be a youth-friendly conversation hosted by Jump at the Sun, which includes a book reading and art activity with Corey the Culture Guide!
This project is made possible with funding from the North Carolina Humanities Council, a statewide nonprofit affiliated with the National Endowment for the Humanities.
The Winston-Salem and Forsyth County Arts Council is the leading advocate for the arts and culture sector in Winston-Salem and Forsyth County. The goal of the Arts Council is to serve as a leader in uplifting, raising awareness and supporting to develop and sustain artistic and cultural offerings throughout our region, ultimately bringing our community together and making it a place ideal for living, working and playing.
[ad_2]