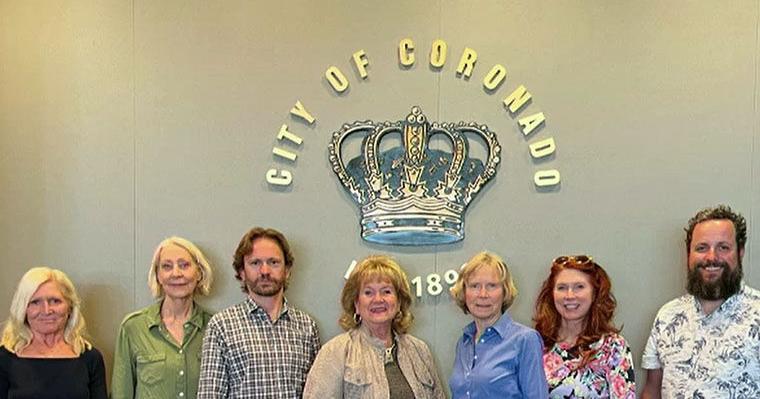 Cultural Arts Commission 2022-2023 Work Plan Approved by City Council | Coronado City News
At City Council's last meeting, Coronado's Cultural Arts Commission (CAC), represented by Heidi Wilson and Kelly Purvis, presented its Fiscal Year 2021-2022 Annual Report and Work Plan for Fiscal Year 2022. -2023.
The CAC is now in its eleventh year as a civic organization facilitating the arts in Coronado in a variety of ways. "It's been an incredible ten years," said Wilson, mentioning their appreciation for the support CAC has received over the years from the community and city council. "Our goals then are what they are today," she continued.
Purvis jumped into detail about CAC's mission and goals, which include supporting and developing the arts and community enrichment. The CAC is also reintroducing the seven arts programs it started with when the organization began, each of which covers either a specific area of ​​the arts or a function critical to the CAC's growth and success.
The CAC celebrated the retirement of five Commissioners and subsequently welcomed new Commissioners to help lead these seven program areas, which are: Arts + Prosperity led by Marcus Echols Booth, Arts Education led by Paul Schutz, Arts Partners led by Heidi Wilson, Communications: Public Relations and Media led by Jeanmarie Bond, Literary and Performing Arts led by Dawn Richards, Public Art led by Deb Kaller and Visual Arts led by Teresa Espaniola.
The new Arts + Prosperity program was created in the wake of the pandemic as CAC considered community needs. "Coming out of COVID, what felt important was being able to help our artistic partners recover, so we have a new program area called 'Arts + Prosperity', which is primarily focused on creating and identifying grant opportunities for our arts partners and working with each organization to be able to find the grants that are right for them," Wilson explained.
The Arts + Prosperity program's 2022-2023 work plan is to complete the Arts and Economic Prosperity Survey (AEP6) and 10 audience engagement surveys in 2022. In addition, the program will work with local nonprofit organizations, sharing the results of these surveys to learn and demonstrate the economic impact of arts and cultural activities in Coronado, and developing a database of grantmaking opportunities for use by nonprofit partners.
Another program under the ACE umbrella is the Arts Education Program, dedicated to promoting education and performance and/or exhibition opportunities for all ages in the community. This team recently released the program's Summer 2022 Arts Education Directory, which features 29 local arts educators the Commission has recognized and partnered with who dabble in a variety of art forms.
In addition to the Arts Education Summer Directory, the Arts Education Program will also strive to create an event that recognizes the contributions of these arts educators to the community and promotes new opportunities for engagement with and among them.
The Arts Partners program aims to identify opportunities for partnerships with local, regional and national arts service organizations with the goal of encouraging local arts programs and collaborations within Coronado as a way to improve the quality of life. CAC recently celebrated its 10th anniversary with an article in Coronado magazine, and its work plan for the current fiscal year includes working with the Coronado Public Library to launch a monthly show on the city's local channel.
"Each episode will highlight activities happening at the library as well as upcoming events in the community. It will focus on an individual artist and maybe a performer and visual artist will have a segment that will be on one of our artistic partners," Wilson described. "We call it 'A peak behind the curtains'. … It's really going to feed into the work that our artistic partners are doing with the artistic community and we're looking forward to having that. These segments will also be uploaded to one or more of CAC's social media platforms for viewing as well.
Additionally, the Arts Partners program will focus on a singular theme over the next fiscal year around Sybil Stockdale and the League of Wives, and the 50th anniversary of the return of Vietnamese prisoners of war to the United States. In addition to highlighting these topics, they would like to create an event to recognize the contributions of Coronado's nonprofit volunteers.
The communications program, which encompasses public relations and media for the CAC, was able to resume publishing the CAC "Four on Friday" events, and to an increased number of subscribers. They are also preparing to launch a new website with a new logo and branding for "Coronado Cultural Arts" in July. Over the course of the year, this program will also focus on developing a CCA social media team and pursuing its goal of promoting Coronado arts, artists, and organizations through the new website. , event calendars, etc.
One of ACE's new umbrella programs this year is the Literature and Performing Arts program. On the literary side, this program will seek to identify and promote opportunities and introduce local authors, playwrights, screenwriters and other artists in the literary arts, working with and supporting the Coronado Public Library to encourage groups literature and events for the community. as well as the Community READ event.
On the performing arts side, this program will provide similar encouragement and promotion of performing arts disciplines and opportunities for the community and visitors to participate in and enjoy enriching live performances.
The Public Art Program focuses on curating public art in Coronado that celebrates the city's current and evolving history, heritage, times, and ways of life, and embraces social diversity. "We have the Public Art app that launched last year," Purvis mentioned of one of the program's recent accomplishments. The Public Art Program will work this year on creating a way to integrate each public piece into the Public Art Walking Tour app for the community and visitors to enjoy and easily access more information about each piece. .
The newest piece of public art to be installed in Coronado, "Crossing Paths" by artist Amos Robinson, was also celebrated with a dedication ceremony June 8 at the Avenida del Sol cul-de-sac where now find the room. Another piece of public art is due to be installed in July (a piece called 'The Knot') and a proposal for a League of Wives memorial project is also in the works and will be brought to Council for consideration in the weeks to come. come.
Finally, the Visual Arts program, which aims to raise awareness and promote opportunities for Coronado's visual arts community, collaborated with the Coronado Public Library to open a new art gallery in the Spreckels Reading Room during the last year. CAOT also sponsored the "Magnetic" exhibit in the Community Center's C3 gallery, which features work by students from the Coronado School of the Arts (CoSA).
The program also contributed to the Honor Project celebrating Tom Rice and provided the impetus for Orange Avenue banners recognizing local artists and non-profit organizations. Their work plan includes an upcoming event on June 16 with the opening of a new exhibition Summer Sizzle at C3 Gallery which will run until September 15, and a new artist event "Oh My Gauche" on September 23. July.
The previously separate facilities program is now part of the Arts + Prosperity program, but last year it helped facilitate the CUSD Performing Arts Center Theater upgrade project and helped secure an additional $100,000 from the neighborhood reinvestment grant program.
"We want to thank you for your support and unwavering dedication to ensuring Coronado's creative community is supported," Wilson concluded, "it really made a difference." Council unanimously approved the report and work plan of the Cultural Arts Commission.
More information about the Cultural Arts Commission and upcoming events can be found on their website at https://coronadoarts.com/.
FLIGHT. 112, NO. June 24 – 15, 2022