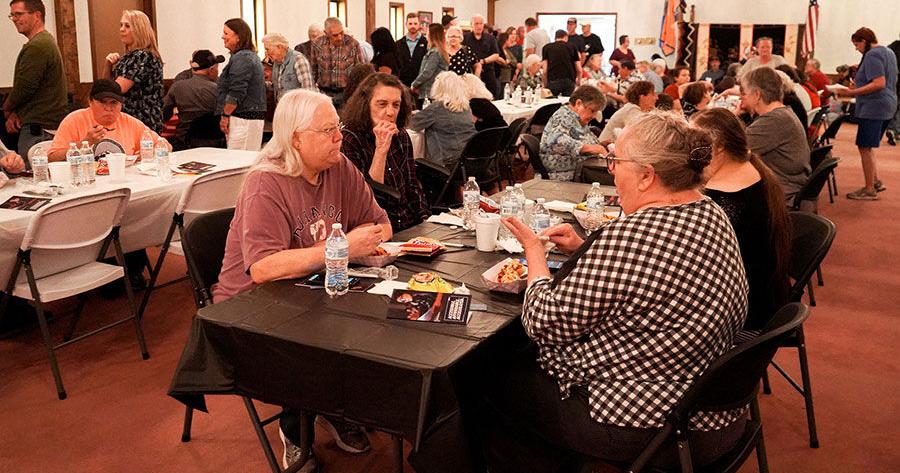 Cherokee cultural community opens its doors in northern District 12 | Community
DEWEY — One of the newest Cherokee community groups opened its figurative and literal doors on April 21 by hosting its first community meeting in its new building.
The Cherokee Cultural Community, which formed in early 2022, welcomed those who live in the northern part of District 12 of the Cherokee Nation for a night of culture, food and fellowship.
"This is a very big event for our region. We're going to open the doors and hope we have a lot of people who have interests and want to come join and be part of our organization," said Monty Layton, Chairman of CCC's Board of Directors. "We want them to feel like they belong. If we can start this early, I think we're going to see great things happen.
Among the more than 100 people in attendance, CN District 12 Tribal Councilor Dora Smith-Patzkowski played a vital role in acquiring the building and assembling the board of directors. Smith-Patzkowski said there was a need for the new meeting space because the district was the second largest in terms of land cover on the reservation.
"We actually have two organizations in District 12, but this organization will serve the northern part of the district because District 12 is the second largest land coverage district on the reservation," she said. "…this is kind of the first time we've been back since COVID. I think we're going to have an overwhelming turnout because people are so ready to come out and see each other and visit each other.
One such person was Amy Rogers, a CN citizen who lives in Bartlesville, but was born and raised in South Coffeyville, Kansas.
"The reason I walked out tonight was because a friend of mine from downtown South Coffeyville reached out and let me know this was coming," she said. . "It's wonderful to have it here. I think people here will get more attention. (With) these community gatherings, I think it's important for us to know who we are and what's going on with each other.
The CCC building, which served as a church, will see many changes in the future. Smith-Patzkowski said much of the interior will be redesigned to meet the needs of the organization, but the exterior will also be redesigned.
"We're going to do some work out back, we've got a few acres here. So we're going to set up a ring of fire and marbles (Cherokee)," she said. "Our possibilities are endless."
Looking to the future, Layton hopes the fellowship to come will be based on cultural experiences.
"The first thing is just to come together and have great camaraderie, and then we all have different ideas, but the main thing is that we wanted to base it on the culture," he said. "I would like it to be a facility that educates people in the area about what the Cherokee Nation does and what they can do. And we just want people to feel part of it, that's their building.
Smith-Patzkowski added that she is grateful to the tribe for working with CCC in purchasing the property and wants everyone to know they are "welcome" to attend and join the group.
"We are so grateful to Chief (Chuck) Hoskin and Deputy Chief (Bryan) Warner for working with us to purchase this property," she said. "We want everyone to know they are welcome. You don't have to be Native American to come here and learn. We want everyone to come so we can share.
The CCC plans to have monthly meetings at 6:00 p.m. on the third Thursday of each month. For more information, visit the Cherokee Cultural Community on Facebook.