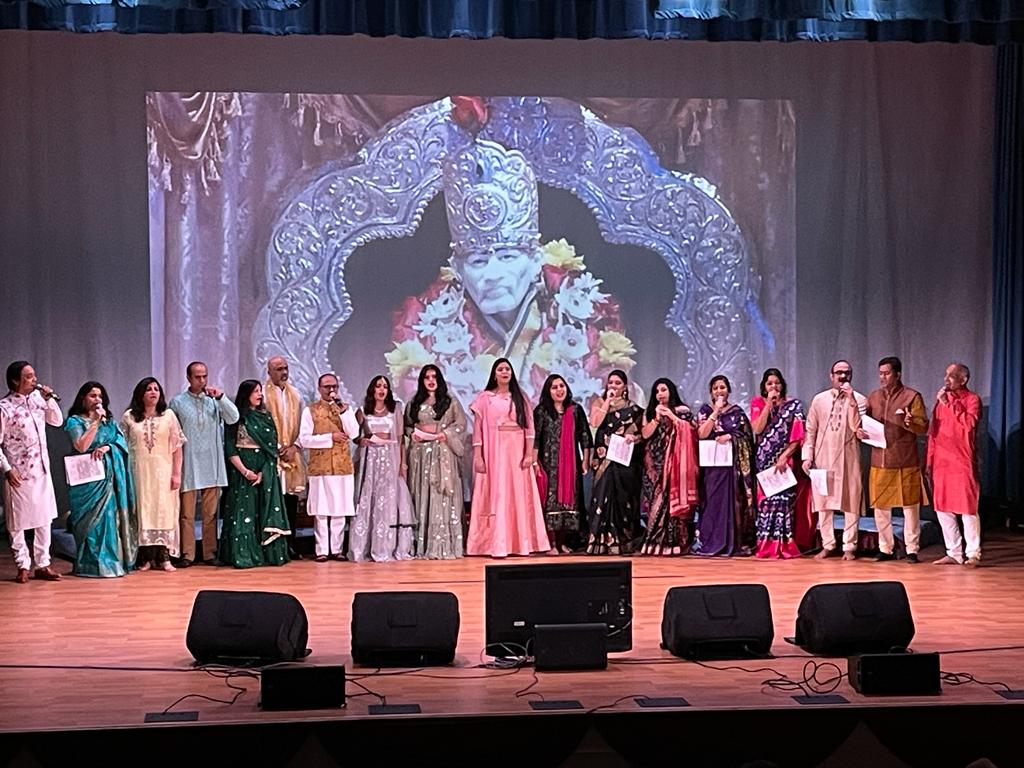 A Musical Fundraising Concert for the Sai Baba Temple and Cultural Center — The Indian Panorama
NORTH BRUNSWICK (TIP): Sai Pariwar, Inc. held a fundraising music concert on Sunday, May 8, 2022, which was attended by over 300 people; County Commissioner Shanti Narra and State Utilities Commissioner Upendra Chivukula attended; Construction of the new Sai Temple will soon begin in North Brunswick, New Jersey:
Sai Pariwar, Inc. & Sai Mandir in North Brunswick, New Jersey, a 22-year-old 501(c)(3) non-profit organization, held a fundraising event on Sunday, May 8, 2022 at the temple Balaji Auditorium in Bridgewater, New Jersey. The fundraising event brought together over 300 people for a melodious Bollywood musical extravaganza featuring a talented group of local singers and musicians who performed over four hours of musical melodies from the ancient to the golden era to new songs with talented young and veteran singers from the local area. The highlight of the musical concert was the live music of talented young artists with their melodious voices of beautiful devotional, romantic and energetic songs. More than 20 singers and musicians performed on stage with solos, duets and choirs that were applauded by many, and many performances received standing ovations. Middlesex County Commissioner and former North Brunswick Councilman Shanti Narra, former New Jersey State Assemblyman and current New Jersey State Utilities Commissioner Upendra Chivukula, President of MANA TV Sridhar Chillara, Chairman of Indus TV Vijay Garg and many prominent figures from the American Indian community attended the event to lend their support to this worthy cause. Mr. Chivukula and Ms. Narra both urged everyone to support and come forward to contribute to this wonderful cause. The talented Madhavi Bathula hosted this concert and did an incredible job of keeping the audience engaged with her unique style.
The Sai Mandirs, North Brunswick (Sai ​​Pariwar), acquired land in the Central New Jersey area of ​​North Brunswick Township on Route 130 adjacent to the Shoprite complex to build the Baba Temple and the cultural center, which will be the spiritual abode of not only Sri Shirdi Saibaba, but other Hindu deities. Currently, temple management is working with the township and architects to get building permits approved which will be completed in the near future. The current temple in northern Brunswick is in warehouse areas and the property is very old with logistical parking challenges and limited access for special needs and disabled worshipers. The new temple will allow devotees to have the opportunity to pray in a safer place with ample parking, basic needs and equipped with the technologies required in the 21st century.
Sai Pariwar's goal is to raise $3 million to complete the construction of a new temple in the coming years. The Board and Committee of Sai Pariwar asks all devotees to contribute generously and reach out to their friends, families and other acquaintances for their generous support, so that they can begin to achieve the financial goals of building and other works for the new temple. The new temple will bring together American Indian communities and devotees, so that our future generations will have a place to pray at Baba's feet and carry on our traditions, culture, values ​​and heritage. Temple leadership sincerely urges everyone to extend their generous contributions and support to this project while offering them the chance to reach out to our affluent and growing Indian community in the central Jersey area. Your generous donations/contributions will enable the temple leadership to meet the financial needs for the construction of a new temple among the populous American Indians in central Jersey.
The main media supporters for this fundraising event were Indus TV, MANA TV/TV 5, GNN, ITV Gold, Parikh Worldwide media, TV Asia, Akila News, Radio Dil, Radio Zindagi, Divyabhaskar.com, masalajunction.com, Gujarat Darpan, Gujarat Samachar and Hi India. Contributions for the construction of the new temple can be given at www.saipariwar.org/donations. For more information on the construction of the new temple, donations or sponsorships for future events, please do not hesitate to contact Surendra Katthula alias Guruji at 732-306-9365 or Anil Bhatt at 732-727-2757 or visit Sai Pariwar website at www.saipariwar.org.
(Based on a press release issued by Dr Tushar Patel and Surendra Katthul)